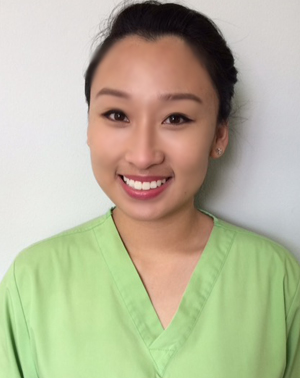 MISS CAROLINE NGUYEN
Caroline graduated from the University of Sydney's Dental Faculty with a Bachelor in Oral Health in 2014 and is our Oral Health Therapist. She has a very holistic, preventative, minimally invasive and conservative approach to dentistry that is extremely patient focused and centred.
Caroline is welcoming to all patients and seeks to turn any previous negative or traumatic views about dentistry to positive ones so that patients can continue to be driven about their oral and dental health.
Undeniably passionate about Paediatric Dentistry, she loves seeing children / young people and being able to make the experience as fun and easy as possible for them. It is extremely important to her that all visits are positive and stress-free for both parents and child so that children can develop good associations and attitudes about dental visits and be proactive about oral health from an early age. She believes this is the best way to set them up for healthy overall health during adulthood.
With Orthodontics, she appreciates the different variety and complexity of cases and being able to follow the journey of change with the patients right through to the end and celebrating how far they have come together.
For Periodontics, it is very rewarding for her to see patients come back with their gums completely transformed and responding well to treatment and especially when patients express to her how motivated and determined they are with their home care and maintenance.
Caroline really enjoys Restorative Dentistry and sees it as an art craft, beautifully sculpting out and restoring the natural tooth anatomy and function. You can be sure that you will have a filling that is both functional, aesthetically pleasing and shade matched to your natural shade making it virtually undetectable.
Her hobbies/ interests outside of dentistry include:
Going on food adventures and trying new and different cuisines
Spending time with loved ones
Bingeing on Netflix
Travelling and exploring unknown areas and countries.
What Is An Oral Health Therapist?
A university-trained dental professional
Has dual qualification in Dental Hygiene and Dental Therapy
Dental Hygienist + Dental Therapist = Oral Health Therapist
Has clinical in-chair responsibilities but also very heavily invested in personalised oral health education and promotion to encourage home care maintenance
What Does An Oral Health Therapist Do?
Dental Hygiene scope of practice for patients of all ages:
Clinical assessment of teeth, soft tissues and periodontium (supporting structures of the teeth)
Take radiographs and interpret readings
Diagnose gum disease and plan treatment
Administer local anaesthetic
Routine scaling and/or root planning with both hand instruments and ultrasonics
Prophylactic polishes
Fluoride applications
Referrals to dentist / specialist /hospitals for further management if necessary
Managing with medical emergencies if they occur
Offer oral health instructions and dietary advice
Participate in oral health promotion and education
Reviews and monitoring
Dental Therapy scope of practice for patients <18 years old:
Clinical assessment of teeth, soft tissues and periodontium (supporting structures of the teeth)
Take radiographs and interpret readings
Diagnose carious lesions, pulp and jaw infections, some soft tissue lesions and plan treatment
Apply fissure protections and sealants
Apply Duraphat (concentrated Flouride)
Administer local anaesthetic
Do both GIC and composite resin restorations (on both adults and children of all ages)
Perform pulpotomies and place stainless steel crowns
Managing dental trauma and medical emergencies
Routine scaling and/or root planning (if necessary) with both hand instruments and ultrasonics
Prophylactic polishes
Offer oral health instructions and dietary advice
Participate in oral health promotion and education
Reviews and monitoring
Orthodontic Responsiblities:
Assists the Principal dentist with orthodontic procedures including:
Pre and post- op data collection including photography, impression taking and pour up
Overall oral health maintenance during the course of orthodontics involving:
Very thorough scale and cleans
Personalised oral hygiene instructions to help the patient develop and maintain good healthy habits during a time where tooth decay and gum disease is at higher risk
Separator, arch wire and modules placement
Removing of brackets, orthodontic cements and all other orthodontic appliances
Post-orthodontic home care instructions and maintenance for retainers
Teeth whitening Responsibilities:
Discussions on what teeth whitening is, its process, usage method, possible side effects, care and shade maintenance
Taking before and after shades
Taking impressions for bleaching trays
Reviews and monitoring
What Is The Difference Between An Oral Health Therapist And A Dentist?
Dentist and Oral Health Therapist work together as team to help patients achieve optimal oral health
Dentists are trained professional competent in all facets of dentistry for all ages. They can perform advance surgical procedures and treatment plan for all aspect of dental needs for a patient
OHT's are trained professional specialising in periodontal health (gums and supporting structures of teeth) for patients of all ages. They specialise in the treatment and management of children both clinically and psychologically to ensure a happy, fun and trauma-free experience
While an OHT also has clinical duties similar to that of a dentist, they have heavier focus on prevention of oral diseases and maintenance of good oral health
What Is The Advantage Of Seeing An Oral Health Therapist?
Your appointment with an OHT can sometimes be longer than a standard dental appointment.

This allows for more thorough checks and in-depth discussions about your oral health conditions

OHTs approaches a patient's oral health holistically

Oral health and disease is multi-factorial
We take into consideration lifestyle factors that may affect the status of the oral cavity including

diet
smoking and alcohol
medication
hormonal changes
habits, behaviours and attitudes relating to oral health
family medical and dental histories etc

We provide extremely thorough cleans and advanced root planning if necessary as this is something we specialise in and feel very passionate about. We do our absolute best to ensure that the cleaning is as comfortable and gentle as possible for you.
OHT's are very focused on prevention and maintenance. We are heavily invested in personalised oral health discussion with patients in order to help patients understand their oral health and what they can do to improve/maintain it.
Will spend at least 5-15 minutes alone discussing the many facets of oral health including your current signs and symptoms, what they mean, causes of any present oral diseases, consequences of neglected symptoms, how to manage /prevent them, personalised home care instructions etc
Provide personalised specialty oral health tools to help you restore /maintain your oral to peak health
OHTs will share lots of valuable tips and tricks that can help make home care as effortless as possible. This will make it easier for you build and maintain healthy oral care habits
As we have unique and specialised training when it comes to children, we are fantastic with children of all ages and treatment. We have lots of tricks not only to put your anxious child at ease the moment they walk through our doors but to leave an ever-lasting positive impression of dental visits.

This is important as positive experiences at an early age = more dental visits = lower risk of decay and gum disease = good oral health = good overall health
We make it a priority that appointments will be stress-free, tears- free and trauma free for both parents and children
It is our philosophy to ensure every parent and every child has an easy, fun and comfortable experience every time

Oral Health Therapists are extremely passionate about oral health. We love a good chat so feel free to ask any and every question you have as we are more than happy to answer them!
What To Expect When You See An Oral Health Therapist?
Our Oral Health Therapist Caroline will greet you warmly as she invites you into her surgery room
Caroline will conduct a thorough history analysis and perform a comprehensive check-up of all teeth and soft tissues. Sometimes, the principal dentist will pop in to address any issues Caroline has detected
If deemed necessary and with your consent, you may have x-rays taken
Any findings and/or treatment (if required) will be discussed thoroughly with you and she is more happy to answer any questions you may have
A thorough scale and polish to ensure those teeth shine bright and gums stay healthy!
Fluoride treatments will be applied (if applicable) to ensure teeth stay strong and protected
Complementary in-depth, personalised oral health and dietary advices will also be offered. Questions are very welcomed at any time
If required and time permitting, fillings can be done on the same day or rebooked for another appointment