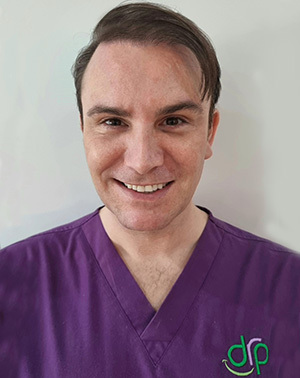 Mr Damien Valentin
Dental Prosthetist
Damien graduated with an Advanced Diploma in Dental Prosthetics and Diploma in Dental Technology at Sydney TAFE.
He started working with our dental practice in 2015 as a dental assistant and receptionist. He loves seeing his patients and enjoys making dentures and other dental appliances for them. He is from France and is fluent in French.
His hobbies and interests include: travelling, listening to music, movies, cooking, baking and fine dining with family and friends.
What is a Dental Prosthetist?
Dental prosthetists are nationally registered dental professionals and recognised dental care providers by:

the Australian Federal Government for services to war veterans
the Dental Board of Australia
State Government dental programs
All private health funds

Dental prosthetists have expanded their dentistry career within the technical environment by completing further dental studies in order to have direct patient contact to include a more patient-oriented direction for the construction and maintenance of removable oral appliances
Dental Technology is a prerequisite to entering an accredited course in Dental Prosthetics. To become a dental prosthetist, you must have already trained as a dental technician.
Registration to practice a dental prosthetist

requires successful completion of an accredited post-graduate course in Dental Prosthetics
must be renewed annually once granted
What does a Dental Prosthetist Do?
A dental prosthetist's clinical role is focused on diagnostic, preventive and fabrication duties to provide a complete removable prosthetic service for the replacement and protection of natural teeth.
Make independent and critical judgments with their highly developed skills in appliance design and construction to offer tooth replacement and protective solutions for their patients
Work independently to assess, design, construct, fit and adjust removable complete and partial Dentures and sports mouthguards without the need of a referral from a dentist
Arrange referral for the treatment and manufacture of:

implant retained overdentures
immediate dentures
splints
anti-snoring devices.
As part of dental prosthetic services, a dental prosthetist in New South Wales may include:
Perform oral health assessments that include taking a health history, dental charting, oral cancer screening, saliva testing and taking vital signs (blood pressure, pulse, blood glucose, respiration);
Perform a dental examination to develop a treatment plan;
Refer patients with complex dental conditions to an appropriate dentist or specialist dentist;
Identify, select and prepare instruments, equipment and materials as required;
Make impressions of the teeth for denture and sports mouthguard construction;
Make plaster and stone models of the mouth and teeth from impressions;
Measure and record jaw relationships;
Replicate the jaw positions using the plaster or stone models on articulating equipment;
Select and arrange artificial teeth for full or partial dentures;
Evaluate a dental prosthesis at try-in stage;
Insert and issue a completed dental prosthesis (denture and sports mouthguard);
Perform maintenance, repair and reline services on removable dental prosthesis required by the patient or a referring dentist;
Teach oral health hygiene techniques to help people maintain natural teeth;
Counsel patients on plaque control, good nutrition, smoking cessation and systemic health;
Manage the delivery of quality patient care;
Perform all procedures permitted by the dental technician
What is the Advantage of Seeing a Dental Prosthetist?
A dental prosthetist is registered by the Australian Health Practitioners Registration Agency.

The Dental Board of Australia recognises the need for a high level of responsibility and accuracy from the dental prosthetist on the potential effects of their products and services on the health and appearance of a person

Dental prosthetists have versatile clinical and technical skills to:

replace or protect tooth function
while preserving the oral soft and hard tissues that support the removable dental prosthesis

When you are placed in the care of a dental prosthetist you can be secure in the knowledge that you are being looked after by a highly knowledgeable dental practitioner with:

the most comprehensive knowledge of advanced techniques and appropriate methods to construct oral appliances from a variety of new and different materials
the latest world trends in the field of dental prosthetics

A dental prosthetist:

applies a high level of attention to detail and precision
has good hand-eye coordination and manual dexterity
possesses artistic ability to construct, form and design
a good listener with sensitivity to your needs

You will have the satisfaction of receiving a specific range of dental services that are congruent to the aim of dentistry in improving oral health and hence overall general health
SOURCE: ADA NSW