DENTURES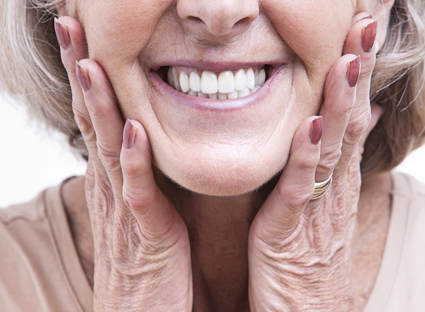 Patients with single or multiple missing teeth may be recommended either an implant, bridge or denture. Dentures are made of either full plastic which although less in cost, are more bulky, cumbersome and fracture prone. However, in certain cases, acrylic dentures are the best type to make.  Flexi dentures aren't suitable for all cases though.
In this type of denture, we are able to make the metal clasps in plastic too, making them invisible, as the pink colour of the plastic just blends in with the gums. Flexi dentures aren't suitable for all cases though.
Cobalt Chrome ("metal") dentures are more streamline, comfortable and durable. Full dentures replace all the missing teeth in an arch with retention achieved through the soft tissues: gingiva and palate.
Partial dentures achieve retention largely by 'holding' on to teeth with clasps. Typical denture construction times range from one to six weeks. Our dentists or dental prosthetist can make your dentures for you.
Construction of dentures involves some combination of appointments for: consultation and quote, impressions, shade, metal try-in, bite, wax try-in and in some cases re-tries. Dentures have a finite life-span and will need replacing when there is lack of retention or wear. The Department of Veteran Affairs for instance, has allowances for new dentures every 7 years. In some cases patients can have teeth added to existing dentures if tooth loss does occur.
In cases of difficult retention and occlusion (bite) referral to a specialist prosthodontist may be needed.